Dropping Courses
You are here
How to drop a course in Student Planning
Partial Withdrawal: If you are completing a partial withdrawal, that can be done online through myCWI. Please follow the steps below to complete the withdrawal process.
Complete Withdrawal: If we are beyond the 10th day of classes you will not be able to do a complete withdrawal through myCWI; you must complete a withdrawal form.
Note: If you are an international student, on academic suspension, or receiving VA educational benefits, you may not be able to drop your courses through myCWI. It's highly recommended that you contact your student success advisor, international student advisor or veteran services coordinator prior to dropping your courses.
***If you need assistance in withdrawing from your courses please visit any One Stop Student Services location, call 208.562.3000 or email registrar@cwi.edu.
To begin, access Student Planning located within myCWI.
Login to Student Planning using your CWI username and password. Remember, your username is always lowercase.
Choose "My Toolkit for Students."

Click on "Plan & Register."

Click on "Plan & Register" one more time.

This will take you to the Academics home page.

Click on Box 2 "Plan Your Degree and Register for Classes."

You will see a calendar with a column on the left. Please note the Calendar Term always defaults to the current semester. The term can be adjusted using the arrow buttons or a new term can be added using the plus button.
Find the course you would like to drop in the left hand column and select "Drop."

A pop up menu will appear showing the course you have chosen to drop. The course you selected will be automatically checked. Check any additional courses you would like to drop and select "Update."
Warning: dropping courses is permanent, please be confident in your decision!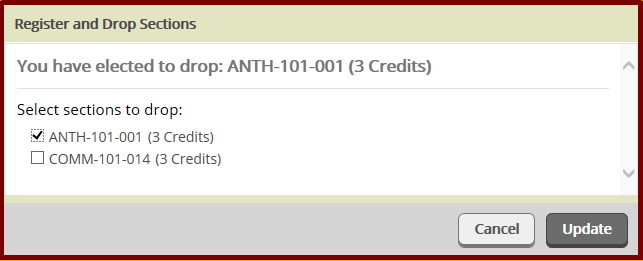 Dropping a course will not remove it from your calendar or from your planned course list. To remove the course from your calendar click the small X in the yellow box on the section in the calendar.

To remove a course entirely from your planned course list, and subsequently your timeline, click the X in the Gray section of the course in the left hand column. A pop up menu will confirm that you wish to completely remove this course from your schedule and timeline.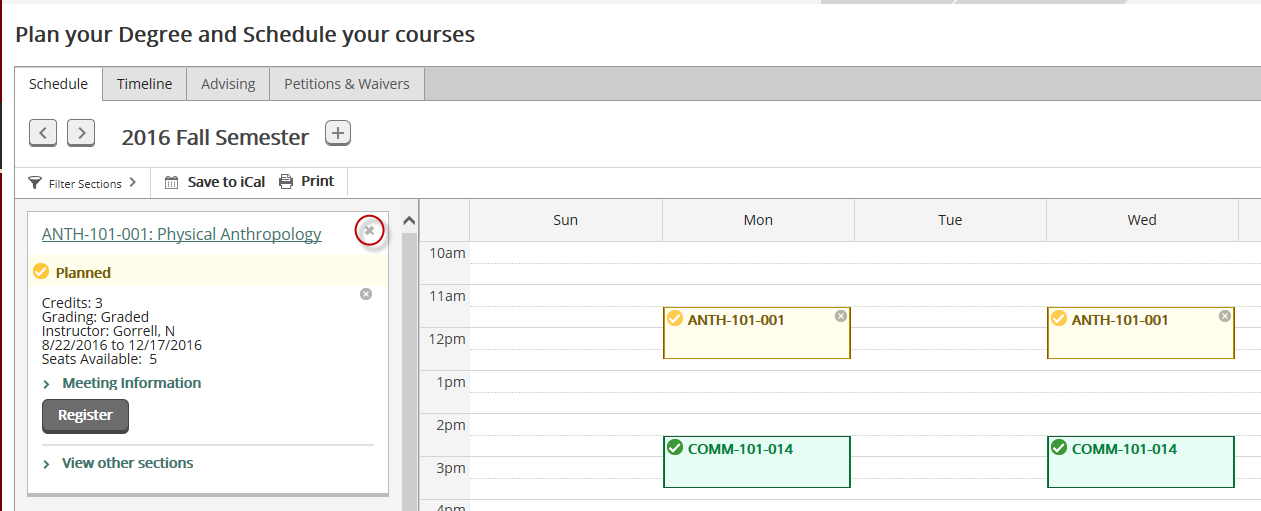 Need More Info?